"Blue Bossa" Variations With Existence & Resistance
Hey, y'all! This is your favorite Afro-Nuyorican Music Major, potential Anthropology and African, African American Diaspora Studies Double Minor Kneeco Hanton '21 here with a highlight of the Spring Semester!
I had the pleasure of taking Professor Delvyn Case's Introduction to Composition course. In this course, I learned about the different elements that go into the process of creating a composition, the information one can receive from analyzing another composer's composition, and ultimately how to apply this knowledge to the creation of my own compositions. We expressed the culmination of our learning experience through composing our own "theme and variations" for a string quartet. The idea of this style involves creating a Tema, or the musical "theme" that one would then vary through creating different versions of this same theme. The Tema could be an original creation or borrowed from a preconceived composition; Prof. Case tasked the students of this course with starting with the latter. I chose to reinterpret Kenny Dorham's 1963 Hard Bop and Bossa Nova influenced Blue Bossa. Blue Bossa was the first Latin Jazz influenced standard I learned how to play when I made the decision to become a professional musician, so I thought it was an appropriate honor and pleasure for it to be my first "theme and variations" in learning about composition.
I started the theme honoring the Bossa Nova rhythm that influenced Dorham's original composition. The second time through and onward, however, I began my own interpretations that reflect not only my personality but also the genres I have experienced outside of the classical realm. I imagined what it would be like to internally reflect on affectionate feelings you have towards someone before awkwardly confessing your love and having someone drop something heavy on your foot at just the wrong time (as if there will ever be a good time). I changed the tune into its parallel major key in the first variation, an idea I witnessed in the eighth variation of Mozart's Dodici variazioni per pianoforte su "Ah, vous dirais-je, Maman." I experimented with the soundworlds of Classical music while including the soundworlds of ChaChaCha and Jazz as well. I experimented with imitation, varying rhythmic and melodic motives, and changing which instrument carried the melody within a piece. There were instances of pitch class sets that created a whole tone chord feel, a transition to the feel of a 6/8 Afro-Cuban Bembé rhythm, and attempts at Modernist techniques towards retrograde and rhythmic variation.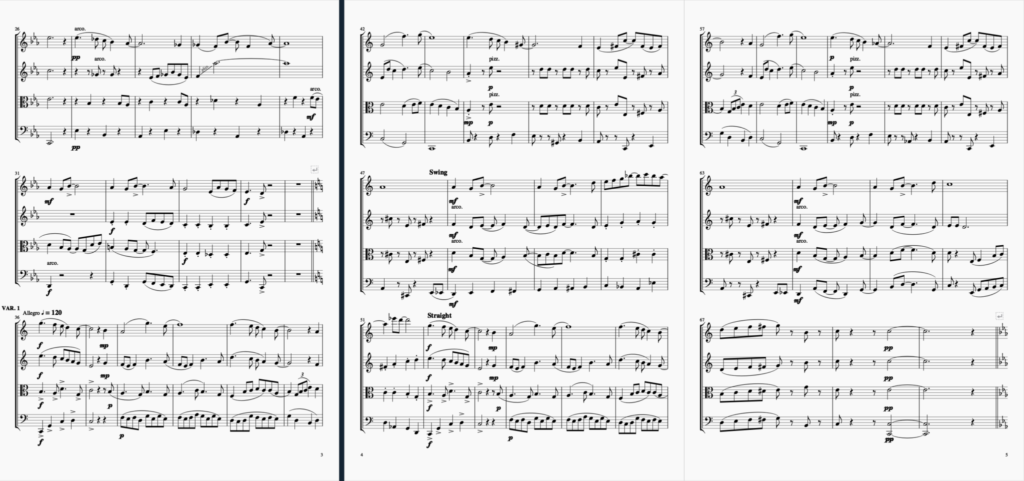 Most of the content in the course was new material for me to learn, and all of what I experienced was exciting. As someone who did not grow up with a formal education in Classical music and related time periods, I was originally uninterested in learning about this music prior to taking the courses I took this semester. At the time I was taking this course, I was also taking Prof. William Mason's Twentieth Century Music and Professor Ann Sears's Western Music II. These courses along with Introduction to Composition helped me better understand and analyze music from the Classical Era and periods after, and I had a newfound appreciation for this music while also receiving knowledge I effectively apply to my career as a composer.
My composition intends to claim my space in an environment where I am oftentimes the only Black or Afro-Latino male in class. I am proud because Blue Bossa Variations reflects my identity and my creativity in a style I was prevented from being knowledgeable on due to generations of Anti-Black sentiment. Not only did I learn about writing for a string quartet. I can now apply these compositional techniques to what I am passionate about and honor the existence of narratives that are intentionally hidden, silenced, and made to feel irrelevant. Oftentimes, strictly academic work will engage with progression without decolonization. This project is imperative because this academic work is about existence and resistance.