2020 Senior Visual Art Majors' Exhibition—Many Frequencies, Equal Intensity
We celebrate the achievements of the 2020 Senior Visual Art Majors presenting their thesis exhibition, Many Frequencies, Equal Intensity, the culmination of a year-long capstone experience in the visual art program at Wheaton College. Each year senior majors are challenged to create an original body of work within a chosen medium, and engage in all aspects of mounting the Senior Visual Art Majors' Exhibition to showcase their work in Wheaton's professional galleries.
However, COVID-19 upended all our lives in big and small ways this spring. For senior visual art majors, this unprecedented disruption to their artistic progress came at a crucial moment— they were one month shy of their gallery opening. They had the challenge of packing up their studios and works still in-progress in a very short time to set up studios where they landed as best they could. They grappled with the disappointment of missing out on what is each year a truly transformative experience installing a group show in a professional gallery space. To negotiate this loss and try to maintain as much as possible the pedagogical trajectory of this visual art senior seminar, students embarked on two projects simultaneously—a exhibition catalogue and 3D virtual exhibition. With resiliency, fortitude, adaptability and of course, creativity, the seniors successfully navigated the different challenges each faced—to finish their work, renegotiate their artistic presentations into digital formats, and do so without losing the meaning of their artistic visions.
The exhibition catalogue will be published through Blurb.com. Each double page spread (included below) showcases the best of one student's work, with detail shots when possible, along with their artist statements. And while nothing can replace the learning experience of physically installing the work of twenty very different students with very different artistic visions in Wheaton's beautiful Beard and Weil Galleries, the seniors successfully simulated the exhibition design component of the course by spending seven hours "installing" art work in a 3D virtual gallery.
This opportunity was made possible by Kunstmatrix, whose site hosts and powers the virtual 3D gallery. Their generous donation provided a platform for an exciting virtual experience and enabled us to host a Virtual Gallery Opening on May 6, and share Many Frequencies, Equal Intensity with the public through August 20, 2020.
—Claudia Fieo, Professor of Visual Art and Advisor to the 2020 Senior Seminar in Visual Art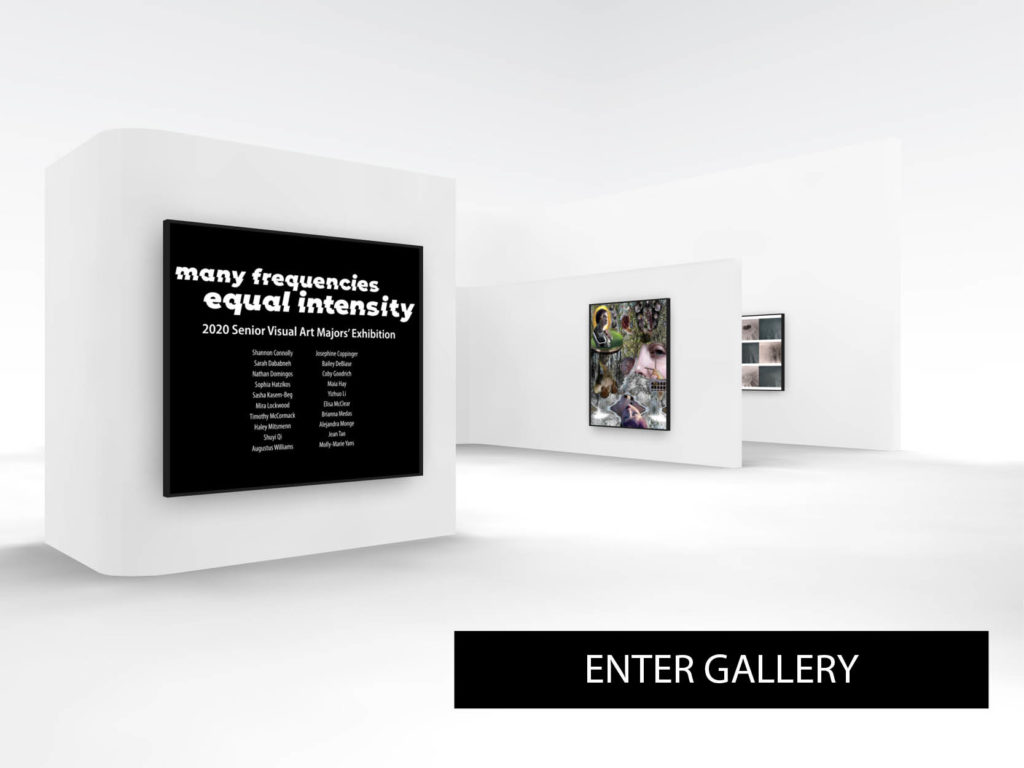 Artists

Shannon Connolly
illustration
Visual Art and Creative Writing & Literature
Farmington, Connecticut, USA
portfolio

Josephine Coppinger
mixed-media Installation
Visual Art and Sociology
Leverett, Massachusetts, USA
portfolio

Sarah Dababneh
mixed-media
Visual Art
Amman, Jordan

Bailey DeBiase
works on paper
Visual Art and Psychology
Carrabassett, Maine, USA

Nathan Domingos
painting, photography, digital collage
Visual Art
Woburn, Massachusetts, USA
portfolio
Coby Goodrich
oil, painting, fishing flies
Visual Art and Philosophy
Westport, Massachusetts, USA

Sophia Hatzikos
sculpture
Visual Art and Economics
Portland, Oregon, USA
portfolio

Maia Hay
mixed-media installation
Visual Art and Political Science
West Bridgewater, Massachusetts, USA

Sasha Kasem-Berg
installation, photography, collage
Visual Art and Sociology
Waterford, Connecticut, USA
portfolio

Yizhuo Li
4 x 5 film photography
Visual Art
Shenzhen, Guangdong, China

Mira Lockwood
photography
Visual Art and Business & Management
Oakham, Massachusetts, USA

Elisa McClear
relief printmaking
Visual Art and History of Art
West Hartford, Connecticut, USA
portfolio

Timothy McCormack
hand-drawn and digital animation
Visual Art and Computer Science
Carlisle, Massachusetts, USA

Brianna Medas
collage
Visual Art
Norton, Massachusetts, USA

Haley Mitsmenn
works on paper
Visual Art and Psychology
Rehoboth, Massachusetts, USA

Alejandra Monge
oil painting, mixed media
Visual Art and Anthropology
Providence, Rhode Island, USA

Shuyi Qi
jewelry, relief printmaking
Visual Art
Shenzhen, Guangdong, China

Jingyu Tao
works on paper
Visual Art and Business & Management
Zhengzhou, Henan, China

Augustus Williams
sculpture, installation
Visual Art
Bristol, Maine, USA

Molly-Marie Yans
drawing
Visual Art and Business & Management
Concord, Massachusetts, USA
portfolio