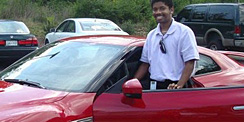 A passion for cars. I have long had a passion for automobiles. When I came to Wheaton, I talked with a career advisor about finding an internship in the automobile industry. I wanted to combine my English major with my interest in cars – perhaps be a writer for an automobile publication. I sent out many resumes, but was unsuccessful. That summer, I returned to a summer job with the New York Department of Education. Sophomore year I started early. I looked for internships at all of the major car brands in the U.S. and secured an internship position with the Product Relations Department at Nissan North America, Inc. in Franklin, TN.
My internship. With the help of the Wheaton Fellows grant I was able to live in Tennessee and be a part of the Nissan community, an experience that was beyond amazing. Being at Nissan not only allowed me to explore the automobile industry but allowed me to explore the state of Tennessee. When I first arrived to Nissan HQ in Franklin, TN I was very excited because I was able to see the building in person instead of watching videos on the internet. Once I stepped through the front doors I felt that I was a step closer to getting my foot in the door of the automobile industry.
I worked in the Nissan Public Relations department which I felt very comfortable in. My co-workers really took me in and made me feel as if I had always worked with them before. When I first got there I made sure that I spoke with every one of my co-workers to find out their background and how they broke into the automobile industry.
Future goals. This experience made me want to start working in the auto industry right then and there. It just gave me more of a desire to begin a career in a field that I love. I now understand what I have to do to make my way into this industry, and the passion I must have to stay in it. In my exit interview, the HR manager told me that I would be the type of person that Nissan would want back. That made me extremely happy, and in the back of my mind I know that I can achieve my dream career.