From monsters to mothers and multiculturalism: social education billboards and murals in Ethiopia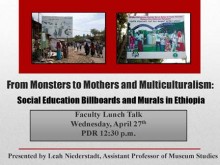 Anyone traveling Ethiopia's main roads is certain to see billboards promoting a variety of businesses, products, or services. As in many other countries, in addition to commercial advertising, Ethiopian billboards and murals are used for social education. In 2000, I began documenting the economic, health, and social issues that appear on billboards and murals throughout the country. This Faculty Lunch Talk explores the ways in which age, class, ethnicity, gender, disability, religion, and HIV/AIDS status have been visually represented in Ethiopian billboards and murals over the past 16 years. I examine the recent shift from a focus on HIV/AIDS education towards one promoting the rights of children, women, and people with disabilities; and I consider how urban development affects this ubiquitous means of public education.
Presented by Leah Niederstadt, Assistant Professor of Museum Studies on:
Wednesday, April 27th
12:30 – 1:30 pm
President's Dining Room
All are welcome to attend!