Community Conversations: Writing About Racism Past and Present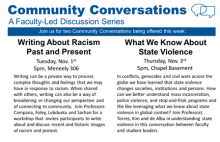 Writing can be a private way to process complex thoughts and feelings that we may have in response to racism. When shared with others, writing can also be a way of broadening or changing our perspective and of connecting to community.
This is the first of two workshops held this week. Join Professors Campana, Foley, Lebduska and Sarhan for a workshop that invites participants to write about and discuss recent and historic images of racism and protest.
Tuesday, November 1, 2016
5:00 pm
Meneely 306
Please note: the workshop, What We Know About State Violence has been postponed and will be offered by Professors Torres, Kim and de Alba on the Spring 2017 series of Community Conversations.