Alumna's Bequest a Gamechanger for Wheaton Athletics
She came to Wheaton in the fall of 1949 from the Bronx neighborhood of Riverdale, New York. She studied French, participated in song and dance performances with her classmates, contributed a poem to the Class of 1953 treasure box, and served on the yearbook staff. But Janyce Vaughan's greatest passion at Wheaton was the Tritons synchronized swimming team.
After graduating from Wheaton, she took business courses at NYU and Fordham, and had a long and successful career at Ernst & Young. She enjoyed mini-reunions with her classmates, made regular gifts in support of Wheaton athletics, and, in 1987, she sent a pledge card to the college and checked the Founders Society box, which read: I have provided for Wheaton in my will. On her passing, her bequest of more than $500,000 established the Janyce Q. Vaughan '53 Endowed Coaching Fund for Artistic Swimming.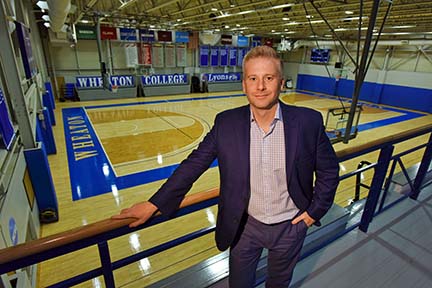 "The impact of this gift, establishing Wheaton's first coaching endowment, will be profound," says Gavin Viano, associate vice president for athletics & strategic programs. "For over 80 years, Wheaton's Artistic Swimming program, starting with the Tritons in 1941, has been a staple of the College's co-curricular offerings. This incredible commitment from Janyce Q. Vaughan, helps to ensure that the future of this storied program will be bright, for decades to come. We are grateful for this investment."
Synchronized swimming began at Wheaton in 1941 when the varsity swim team realized they didn't want to stop their activities at the end of the season. Calling themselves the Tritons, the team began experimenting with water stunts and formations. They produced their first show, "Marine Magic," featuring 1890s swimsuits and a routine called "Peacock Pond by Moonlight." In the decades since, Wheaton's artistic swim team has racked up national awards, building camaraderie among student-athletes, and fostering lasting leadership skills for generations of Wheaton female athletes.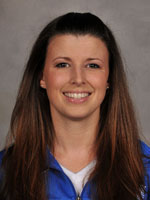 "Finding out about the endowment was exciting and emotional," said Rebecca Ercoli, head coach of Artistic Swimming. "When asked a few years back about my biggest want for the program, I enthusiastically said, 'An endowment!' Being 'the first' is nothing new for Wheaton's program, having started the team in 1941 meant it was among the first opportunities for women to join the sports scene. This endowment re-establishes that Wheaton athletes will continue to be pioneers in both Artistic Synchronized Swimming and within the Wheaton community. It's a privilege to be part of the longest running athletic program, and I thank Janyce and her family for the generosity and support."
In recognition of Janyce Vaughan's contributions to Artistic swimming, the team plans to formally hang and dedicate the historic Tritons banner in the Balfour Natatorium in Janyce's name in late spring, Coach Ercoli confirmed.
This endowed coaching position is part of the $6 million Catalyst Fund for Wheaton Athletics, launched in November 2021. The objective of this fundraising initiative is to make significant upgrades to the College's athletics facilities and grow support for the dedicated coaching staff. To date, $4.2 million has been raised toward the goal of $6 million. The impact of the Catalyst Fund can already be seen on campus, with the fall 2022 opening of the new Varsity Strength and Conditioning Center and the Marcus Family Film and Media Room in the Haas Athletic Center. Members of the community who wish to participate in the Catalyst Fund, can make a gift online.
Janyce Vaughan's generous bequest to endowment will provide a permanent source of support to sustain and enhance the integral role that athletics play in the Wheaton experience. That's legacy. That's impact.
You can learn more about gifts of legacy at Wheaton's new Planned Giving website.