"Rick Britto: A Digital Portrait"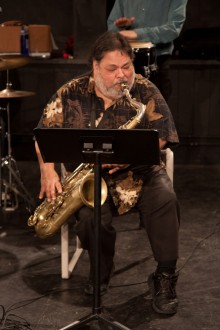 Jazz saxophonist and Wheaton music major Tommy Van Duyne ('14) has released a video tribute to his teacher, Wheaton jazz band founder Rick Britto, who unexpectedly passed away at the end of the summer of 2012. The video, "Rick Britto: A Digital Portrait," can be seen on Youtube.
On December 7, 2012, the Wheaton College Jazz Band honored Professor Britto with a jam session at the end of its winter concert in Watson's Kresge Experimental Theatre. Among the alumni of the jazz band who returned to pay tribute to Rick was baritone sax player Chris Nowselski, who as a student was a major force in Wheaton hiring Professor Britto and starting a jazz band. Recent graduates drummer Dylan Ettlinger and saxophonist Jesse Shaw also returned for the tribute.