Women's Literacy in Early Modern Spain and the New World wins award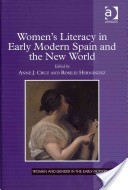 The volume, Women's Literacy in Early Modern Spain and the New World (Ashgate 2011) has been chosen by the Award Committee of the Society for the Study of Early Modern Women as this year's winner of their award for a Collaborative Project.
Containing essays from leading and recent scholars in Peninsular and colonial studies, this volume offers entirely new research on women's acquisition and practice of literacy, on conventual literacy, and on the cultural representations of women's literacy. Together the essays reveal the surprisingly broad range of pedagogical methods and learning experiences undergone by early modern women in Spain and the New World.
Contributors to this collection explore the abundant writings by early modern women to disclose the extent of their participation in the culture of Spain and the New World. They investigate how women—playwrights, poets, novelists, and nuns— applied their education both to promote literature and to challenge the male-dominated hierarchy of church and state. Moreover, they shed light on how women whose writings were not considered literary also took part in the gendering of Hispanic culture through letters and autobiographies, among other means, and on how that same culture depicted women's education in the visual arts and the literature of the period.
The volume includes a piece by Professor Montserrat Pérez-Toribio. In her essay "From Mother to Daughter: Educational Lineage in the Correspondence between the Countess of Palamós and Estefania de Requesens," the analysis of literacy shifts to the question of dissemination and from books and reading to letters and writing. While humanists, such as Juan Luis Vives, recognized as legitimate the mother's role as educator during early childhood, they also insisted that her knowledge and deployment of the epistolary genre was potentially threatening to her and her children's morality. In the letters exchanged between a countess and her daughter, however, Pérez-Toribio finds evidence of not only female support and efforts to provide a proper education in household management but also an exchange of thoughts on matters that did not concern domesticity per se. In assuming domestic authority, letter writers such as the countess challenged the ways in which motherhood was defined by men as dependency.