The Business and Management Department, in partnership with the Office of Career Services, took more than a dozen students to learn and network at the third annual Woo Sports Summit on the campus of Worcester State University.
Held for the first time since events closed down due to COVID, almost 700 attendees gathered to learn about various sports and sports management career opportunities. Representatives from the Bruins, Celtics, Red Sox, and a variety of other college and semi-professional sports organizations were on hand.
Dr. Leanna Lawter, Chair of the Business Department, shared, "We have a large number of students interested in careers in sports, and we wanted to give them direct access to possible employers. I wanted to show them the many different opportunities in this space."
The full-day event included panel discussions around topics including sports marketing, diverse voices in sports, and a hometown panel of locals now working in the field. The conference did a fantastic job of ensuring that the people on the stage showcased the diversity of people and roles that are working in sports today. The day started with an inspiring keynote from Kit Hughes, Director of Athletics at the College of the Holy Cross.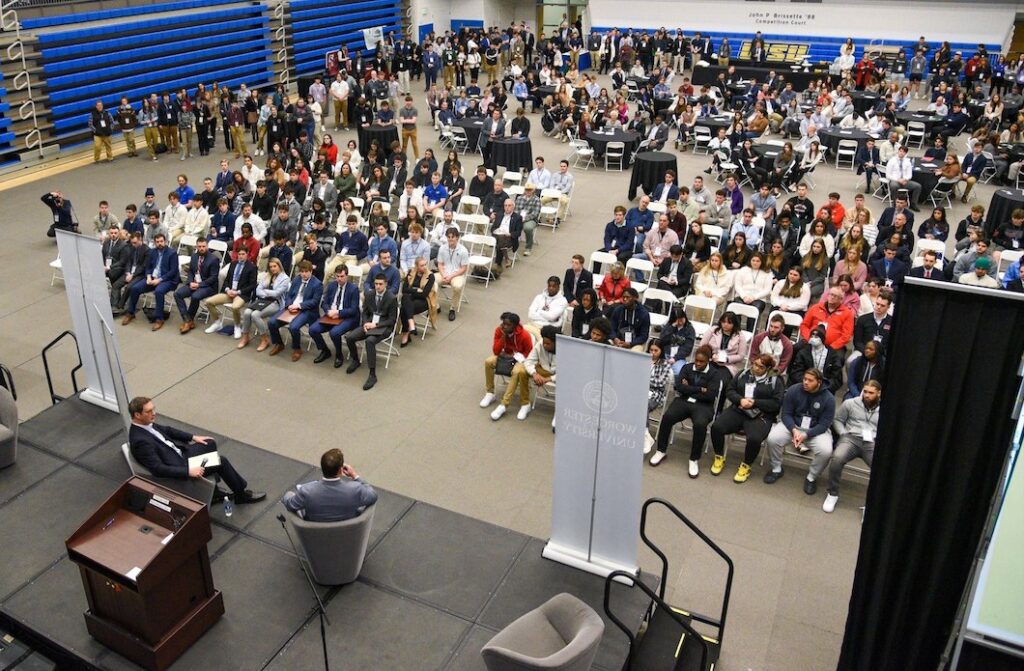 First-year computer science major and manager of the Wheaton men's basketball team, JP Pinkrah, left even more excited than when he got on the bus in the morning. "I felt like it was important just to get out and network," he said, "I made more connections than I thought I would, and it feels great knowing that someone at the Celtics has a copy of my resume."
This was the first year attending the conference, and Professor C.C. Chapman was excited to get students access to job opportunities through the on-site job fair. "I manage the internships for our major and know how important gaining networking skills are, and this event allowed our students to talk directly to many of the sports teams in the area. We've already had one student offered an internship analyzing statistics for a local team."
Senior business major Sadie Recht is actively interviewing in the sports industry and hopes future students will jump at the opportunity to attend events like this when departments sponsor them. "I would recommend it 100%. Getting a foot in the door in any industry is important, and events like this help."